Q: Should the NCAA ban the use of colored fields?

A: No.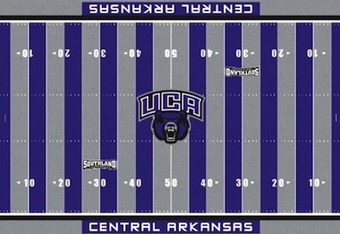 Wow! Sorry about that prolonged absence. I had no idea it had been this long since I last updated this site. At any rate, let's press on with some of the preseason questions regarding the college football scene.

If you haven't heard, Central Arkansas is getting a new field. And it's not a purple field. Well, sorta. It's actually a multicolored field with stripes of purple and silver. Yeah, and you thought Boise State and Eastern Washington were radical.

What many in the UCA community and the college football community at-large thought was a funny joke as this report was released on April Fool's Day, this turns out to be legit (unlike LSU's joke of a purple field a few years ago). Many outlets did confirm earlier this month that this was indeed a legit proposal and will take effect this season (I believe the installation may be underway right now).

This begs the question, is this the future of college football? I respect tradition as much as the next guy, but I am also a big fan of iconoclasts. Being iconoclastic for the sake of attention may not be held in as high esteem, but these schools are looking for something to latch on to and I won't begrudge them that. After all, Boise State's initial decision over 20 years ago to install blue turf has done wonders for their program. It feels like the fad is wearing thin, but the decision should be left up to the individual schools. Eventually if too many schools start doing it, attention-getting will not be a benefit of the switch.

I wonder what the ugliest fields would possibly be? Can you imagine Wyoming with a brown field? How about Oregon State with an orange field? UCLA or North Carolina with a powder blue field? Tennessee with the yellowish-orange? The possibilities are endless!